Today it was announced that Ukrainian refugee children will be allowed to come to Britain unaccompanied.
The settlement minister, Michael Gove, has announced that the UK Homes for Ukraine scheme will allow under-18s to come to the UK without a parent or guardian.
He said the policy would initially apply to 1,000 children who had already applied to the home office but had been stopped because they were not traveling or reunited with a parent or guardian.
This comes after pressure from Labor MP Tulip Seddik, which pushed the government to help its voters who are trying to save Ukrainian children.
Hundreds of minors who had fled the war without their parents were stuck in limbo across Europe after trying to advance to the scheme.
Many of them are believed to be teenagers with British families waiting to host them but who have not received a response from the home office.
In a written ministerial statement, Goff said: "After working closely with the Ukrainian government, the changes will enable a child to apply for a visa if they have evidence of parental consent.
"This must be certified by an authority authorized by the Ukrainian government such as a notary or a Ukrainian consul abroad.
Local authorities will also conduct extensive checks on the sponsor before any visa is granted, with councils able to object to any sponsor arrangements they deem inappropriate.
"The guarantor must also, except in exceptional circumstances, be a person personally known to the parents."
The rule change was announced by a minister during a debate in Westminster Hall where he told MPs how teenagers were struggling to get to the UK due to "bureaucracy" in their offices.
Labor and Conservative MPs described how their constituents, trying to care for refugee children, were met with roadblocks.
Seddik, who led the discussion, said she had dealt with "countless" cases of unaccompanied children who were denied access to Homes for Ukraine because of the home office's "strict and bureaucratic" approach.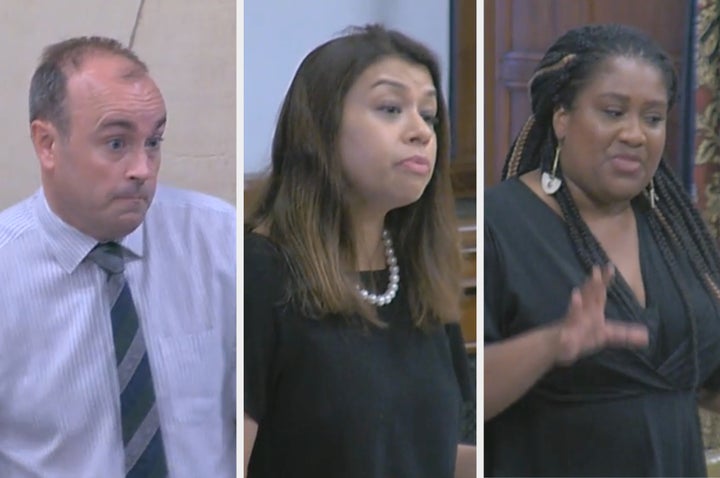 A friend said it was a cause "very close" to her heart after her mother came to the UK in the 1970s as a political refugee after 19 members of her family were murdered.
She said she could see similarities raised by one of her constituents trying to take care of two Ukrainian sisters, ages 13 and 18.
However, their hopes that both would be able to enter the UK were dashed when the older one was granted permission to travel, but the younger one was not because she was under 18.
House scheme rules for Ukraine state that unaccompanied children are only allowed to apply if they are traveling with their parents or legal guardian to the UK.
She added: "Maria, a 13-year-old, was forced to choose between returning to a war zone or staying alone, with a whole host of dangers I don't need to explain today, in a makeshift hostel in Montenegro. It's downright ridiculous. Special because she had a warm and safe home waiting for her in London."
The MP for Hampstead and Kilburn also cited a husband and wife who had taken care of two sisters aged 20 and 13 to live with them in London, but because of government policy they never made it to the UK.
It also raised another case of two 17-year-old children who had a British sponsor but instead ended up sleeping on the kitchen floor in a small apartment in Poland.
"It is sad to think of all the older brothers and sisters who chose to stay in Ukraine with their younger siblings rather than make the trip alone without them," added Siddiq.
She added: "I am concerned that even under the current rules these issues are not being dealt with properly or urgently.
"These children have experienced serious trauma and will need specialized support to ensure they are successfully integrated into their new community."
Conservative MPs Aaron Bell and Crispin Blunt raised separate issues relating to children. Meanwhile, Labor MP Bill Ribeiro Addy has warned that some young people may have fallen into the hands of people smugglers.