World leaders gather in Madrid today for the NATO conference, and one issue looms above all else: the war in Ukraine. The conflict has been described as the West's biggest security challenge since 9/11, and along with practical considerations for military aid, leaders are desperate to project an image of unity.
Parents Dan Sabbagh |World Health Organization He is in Madrid for the conference, and has just returned from eastern Ukraine, where he witnessed the incessant bombardment of Ukrainian forces. Talking to Michael Safi About the front line that became like the battlefields of World War I.
World leaders at the Group of Seven summit yesterday strongly condemned the Russian attack on a shopping mall that Ukraine says killed at least 20 civilians.
But amid the declarations of Western unity lies a disturbing fear: Will it last? With the conflict entering a phase of attrition with both sides deepening, the conflict shows no signs of ending this year. With voters battered by the food crisis and the global cost of living, will the world's richest democracies continue their course as promised?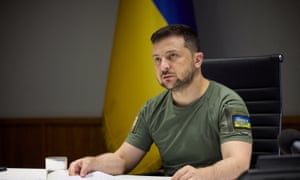 support the goalkeeper
The Guardian newspaper is editorially independent. We want to keep our press open and accessible to all. But we increasingly need our readers to fund our work.
support the goalkeeper