Premier Anthony Albanese and Emergency Services Minister Murray Watt have addressed the media in Forbes as the Victoria flood crisis continues.
Forbes in the NSW Central West has seen its own floods in recent days.
Albanese warned there were "dangerous" days and weeks ahead with more rain.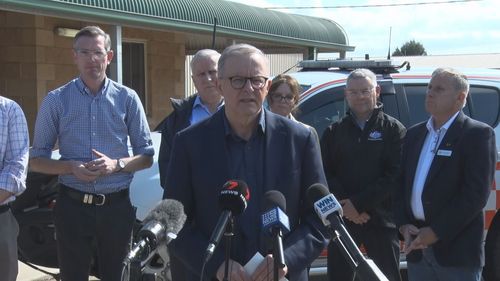 He said the federal government was in contact with states to provide the assistance that was needed.
"For Victoria, overnight today we have provided some heavy helicopters, it's not about moving people, it's about moving heavy infrastructure equipment around," he said.
"I thank our ADF personnel for once again showing their commitment to their fellow Australians at this difficult time."
Watt, who is also agriculture minister, said discussions were underway about extra support for farmers who have suffered repeated devastation along the east coast.
"Even under the support that has already been triggered between the NSW and federal governments, there are low interest loans available for primary producers, small businesses and there's a range of other support as well," he said.
"However, should further support be required down the track, we would of course consider it."