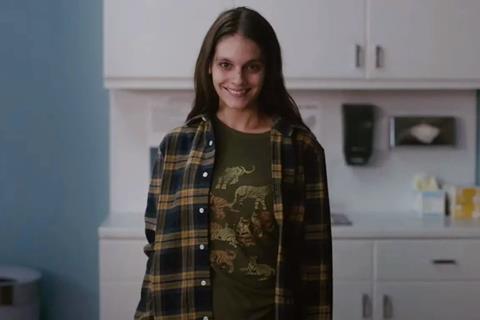 | | | | | |
| --- | --- | --- | --- | --- |
| Rank | Film (distributor) | Three-day gross (October 8-10) | Total gross to date | Week |
| 1. | Smile (Primarily) | £1.7m | £4.75m | 2 |
| 2. | Don't worry honey (Warner Bros) | £1 million | £8.2m | 3 |
| 3. | The female king (eOne) | £927,000 | £1.3m | 1 |
| 4. | Ticket to paradise (Universal) | £860,708 | £6.7m | 3 |
| 5. | Amsterdam (Disney) | £631,064 | £631,064 | 1 |
GBP to USD conversion rate: 1.11
Thriller Smile became the first 18-rated film to top the UK-Ireland weekend box office in over three years, with a huge 17% increase over the previous session.
The film took £1.7m from Friday to Sunday, up from last weekend's £1.5m start. That's up to £4.75m in total after strong midweek performances, and is on track for an excellent result for Paramount.
The last 18-rated film to top the box office in the UK and Ireland was Quentin Tarantino's Once Upon A Time… In Hollywood in August 2019. Leigh Whannell's The invisible manwhich topped the charts in February 2020, was originally rated 18 before a recut version of the film was rated 15.
Despite losing its top spot, Warner Bros' Don't worry honey took seven figures for a third consecutive weekend, taking just over £1m from Friday to Sunday.
The film is up to £8.2m from three sessions, with a strong chance of crossing £10m in the next few weeks.
Gina Prince-Bythewoods The female king The Viola Davis starrer opened to £927,000 over the weekend from 577 locations for an average of £1,607. Including previews, the film has £1.3m. for eOne – 8.5% of them come from Imax screens.
In its third weekend for Universal, Ticket to paradise fell 35.6%, with £860,708, bringing it up to £6.7m.
Amsterdam started with £631,064 for Disney. Playing at 622 pages, it took a screen average of £1,015; it will take a long tail to get to the £5m-£7m mark, where most of director David O. Russell's films end up.
Admissions for the top five fell 16.6% to 5.2 million. GBP, as several new titles did not cross the 1 million mark. Cinemas will be looking for seasonal buzz around Universal's Halloween ends next weekend to move the numbers in a positive direction.
Mrs. Harris continues to go to Paris
Mrs. Harris goes to Paris fell 36.2% in its second weekend for Universal, with £514,339 taking it to £2.2m.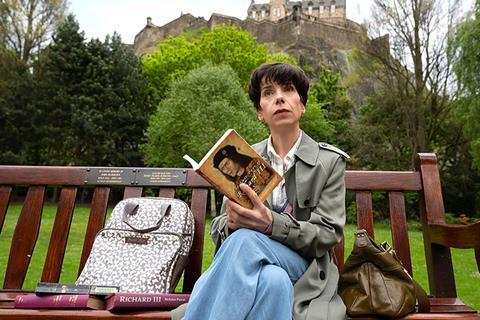 Stephen Frears' The Lost King opened with £349,114 this weekend from 574 locations, for a low average of £608 per cinema. Released by Warner Bros on behalf of Pathé, the film has £367,609 including previews.
In last week's event theater releases, Jack Absolute flies again topped the entire chart on Thursday with £339,375 from 548 locations and has a total of £351,884 for National Theater Live.
Minions: The Rise Of Gru is still in theaters after its 15th weekend, where it fell 41.9% with £165,586, taking it to just £46m, down from £47.8m from 2015 Minions still in sight.
DC League Of Super-Pets fell 50.2% on its 11thth weekend for Warner Bros, with £110,873, taking it to a £15.5m cue.
Disney's former number one See how they drive fell 65% on its fifth weekend, with £110,406 taking it to a £4.6m cue.
David Bowie documentary Moonage Daydream added £84,177 in its fourth weekend – down 58.8% – and is up to £1.4m for Universal.
Overall animation Tad The Lost Explorer And The Mummy's Curse fell 68.1% in its fifth session, with £65,000 taking it to nearly £1.7m.
First face starring Jodie Comer added £61,479 – up 196.9% – in its 12th weekend in cinemas and is now up to nearly £5.2m.
Sony's Bullet train added £46,000 in its tenth weekend in cinemas and is up to nearly £10.9m. Total.
Top Gun: Maverick still plays into a 20th weekend in cinemas, adding £37,000 to reach £83.4m as the eighth highest-grossing film of all time for Paramount.
Superior stable mate Nothing can compare toa documentary about singer-songwriter Sinead O'Connor, opened to £31,800 from 50 theaters for an average of £636.
BJ Novak's Revenge opened to just £29,132 from 138 sites for Universal, for an average of £211.
Trafalgar Releasing's event theatrical release Billy Joel live at Yankee Stadium took £22,355 on its release on Wednesday 5 October and is up to £50,902 from all views.
Orphan: First Kill added £14,704 in its eighth weekend for Signature Entertainment, and is up to a healthy £2.4m.
Elvis finally leaving the building for Warner Bros with £14,576 on its 16thth weekend in theaters, bringing it to a whopping 27.6 million.
Francis Ford Coppola's Bram Stoker's The Devil -onepublished in a restored 30th anniversary edition, took £13,991 for Park Circus.
Sasha King's documentary is playing in 23 cinemas across Ireland and Northern Ireland Vicky opened at €11,418 (£10,016).
Universal's Nix closes out after nine weekends in cinemas, with £3,452, taking it to a £7.9m cue – down from £10.1m U.S and £10.5m Go out from director Jordan Peele.
New Wave Films' Cordillera of dreams opened to £2,504 from six cinemas.
After only playing two weekends in cinemas in Ireland, Wildcard Distribution releases Pure Grit has taken over €2,000 from three places.