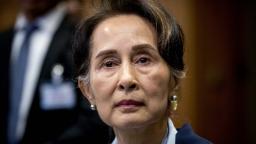 A source familiar with her cases told Reuters on Wednesday that Myanmar's military rulers had ordered, without explanation, the transfer of all legal proceedings against ousted leader Aung San Suu Kyi from a courtroom to a prison.
Suu Kyi, the 77-year-old Nobel Peace Prize winner on Sunday, has been charged with at least 20 criminal offenses since she was ousted in a coup early last year, including several corruption charges. She denies all charges.
Some media reported that Suu Kyi was also transferred from house arrest to detention in Naypyidaw prison on Wednesday. Reuters was not able to independently verify these reports.
Junta leader Min Aung Hlaing has so far allowed Suu Kyi to remain in detention at an undisclosed location in the capital, Naypyidaw, despite being convicted of incitement and several minor crimes.
The source, who requested anonymity due to sensitivities about the trial, said the sessions will be transferred to a new special court in Naypyidaw prison.
"The judge announced the completion of the construction of a new building for the court," the source added.
The ruling military council could not immediately be reached for comment.
Suu Kyi's marathon court proceedings are taking place behind closed doors with only limited information reported by state media. A gag order has been placed on her lawyers, who are only allowed to contact her on trial days.
It is not clear how much Suu Kyi knows about the crisis in her country, which has been in chaos since the coup, with the military struggling to consolidate power and facing increasing resistance from militia groups.
Western countries described the convictions as sham and demanded the release of Suu Kyi. The military says an independent judiciary is giving it due process.