A motorcyclist fell into a hole in a residential street in southeast London – but apparently escaped without serious injury after trying to "jump" on it at the last minute.
Locals said the road on Martins Street in Bexleyheath began to ramble and collapsed around 9 p.m. Tuesday.
The video showed the motorbike still in the pit, and Darren – who chose not to reveal his full name – said the rider survived "lucky".
"It happened right outside my house and no one was hurt as far as I know, fortunately, but the person on the bike who got away is lucky," he said.
"He left before the ambulance arrived.
"It was very exciting but also frightening as we were told that we might have to evacuate if things progressed."
Mark Goins, 38, told KentOnline that he spotted the seven-meter gap as he turned into the road, but the motorcyclist wasn't so lucky.
"Obviously he didn't see the pit. He tried to jump on it, but the bike ended up in the pit. Then the guy ran away," he said.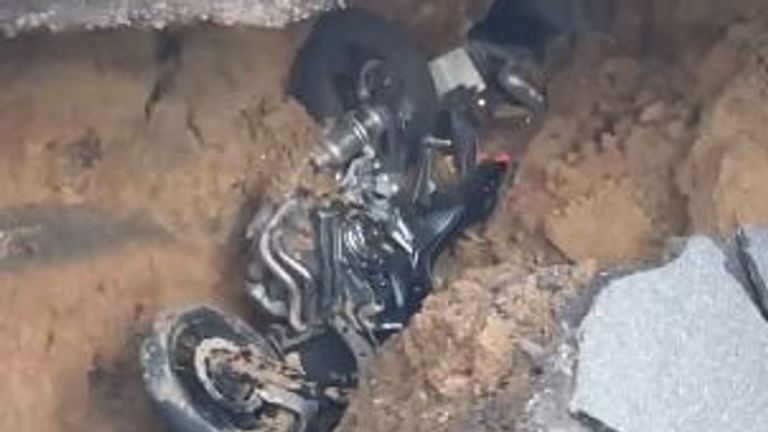 Liam Edwards, 25, said there was a "strong clamor" when the road went down.
"I saw a motorbike inside and spoke to a neighbor right next to it and (he said) he just moved his truck five minutes ago or else it could have been in the pit too," he said.
"No one was hurt, although it was a frightening experience for those living opposite it."
The road remained closed to vehicles and pedestrians on Tuesday, and local residents said Thames Water employees were at the site.
Stream is usually created due to erosion caused by repeated exposure to water.