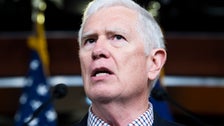 Rep. Moe Brooks (R-Ala) sent an email to the Trump White House asking for pardon for hundreds of Republican lawmakers who tried to topple the 2020 election, saying he did so at the behest of then-President Donald Trump, according to a CBS reporter. Robert Costa, from Tweet Thursday That Brooks shared the email with him.
The email, dated Jan. 11, 2021, to Trump White House Executive Assistant Molly Michael, seeks preemptive pardons for the 147 members of Congress who voted against the certification of Electoral College results in Arizona and Pennsylvania, according to Joe Biden.
The email also asks for a pardon for all 126 Republicans who, in December 2020, signed an amicable memorandum in a Texas lawsuit that sought to challenge election results in Michigan, Wisconsin, Pennsylvania and Georgia — states that Biden also won.
The email begins "Dear Molly: President Trump told me to send you this letter," adding that it is also "at the request" of Rep. Matt Gaetz (R-Fla).
"It is clear that the wealthy and scandalous Social Democrats … will abuse the American judicial system by targeting many Republicans with sham charges derived from our recent struggle for a fair and accurate election and the rhetoric related to it," the email read. It then requests a "general amnesty (for all purposes)" for lawmakers.
In the end, Trump did not issue a comprehensive, preemptive pardon to senators and representatives who formally embraced his false allegations about a rigged or stolen election.
Costa reported that Brooks sent a text message that said, "Fortunately," no one had yet been "persecuted for performing their statutory duties, which meant that an amnesty was not necessary."
Brooks said in statement He shared on Twitter in March that Trump "asked me to cancel the 2020 election, immediately remove Joe Biden from the White House, and immediately return President Trump to the White House."
Last week, Brooks lost his state's primary after Trump withdrew his endorsement of the congresswoman and the support of the rival Republican.
The Alabama congressman now appears ready to cooperate with the House Select Committee's investigation into the January 6, 2021 attack on the U.S. Capitol. Brooks said this week that he will testify about the events surrounding the insurgency.
During a public hearing Thursday on Capitol Hill, the House committee shared witness testimony that also sought pardons along with Brooks and Gates, Representatives Andy Bigs (Arizona) and Louis Gommert (Texas).
The committee said earlier that Representative Scott Perry (R-Pen) had requested a presidential pardon, which the congressman denied.
"The only reason I know for asking for pardon is because you think you committed a crime," committee member Adam Kinzinger (R-Illinois) said at the hearing.