I I'm from Yorkshire, but I live in London – which makes York an ideal destination for me. It takes less than two hours on the train to get there, however, once you arrive, everyone (or almost everyone) has flat vowels reassuringly. There is the minister, for Evensong, and the walls, to walk. There are good bookshops selling used books (fosgate books are great), excellent restaurants (go to Cave du Cochon and get a black macaroon pudding with your glass of wine) and a very special shop in High Petergate that deals in Japanese prints. By the way, there is also an excellent place to stay, although I think I will keep this address to myself for the time being.
But the York Art Gallery is what I really like. For one thing, it's just the right size, neither too big nor too small: a visitor can satisfy all kinds of motives without worrying about what they might miss. On the other hand, her permanent collection is full of hits. We are always looking for Walking Cheyne in Sunshine (1887-1888), by the great Londoner Impressionist Paul Maitland; If it's Bronze Sally Arnop Irish Wolfhound (Burt) It was never on display, I'd be so miserable.
Best of all – and this seems to be a secret out of town – it houses the largest and most important collections of British studio ceramics in the country. The result of gifts from enthusiastic private collectors (you might call them crazy), it features the work of more than 600 artists, over 5,500 pieces, many of which are always on display at the Center for Ceramic Art (CoCA), which, since 2015, have been placed in two exhibitions. Gorgeous upstairs.
If you like pottery in the studio, or even if you don't, these airy and well-organized rooms are well worth a visit. There is no major name missing from the collections, and the temporary exhibitions organized by CoCA, without exception in my experience, are very good.
I'll never forget, in 2018, stumbling upon a small display of Lucie Rie's ceramic buttons, which were made for the British fashion industry during the war when many factories were taken over – the work she did was completely new to me (Rie was famous, of course, for Cut it, the pots and vases were meticulously thrown, and for it used another potter who would one day become famous, Hans Cooper).
When I'm stuck in a bus and get annoyed, I sometimes look at the pictures I've taken on my phone of these little works of art. In their elegant rows, some bone-colored and others vivid, bright amber and even custard yellow, they are soothing and oddly beautiful.
But I digress. The collection began in the 1950s, when Reverend Milner White, Dean of York, left his utensils for the gallery. Milner White began collecting the pieces in 1925, when modern pottery was of little interest to most people, and thanks to this, and his uncommon devotion to stoneware, among the greats whose works were bought by William State Murray, Shuji Hamada and Bernard Leach. From here, others followed, among them W.A. Ismay, who was once the UK's most prolific collector (we'll come back to him); Henry Rothschild, founder of the pioneering Primavera Gallery in 1945; and Anthony Shaw, whose long-term loan in patterned ceramics includes 550 Rey buttons.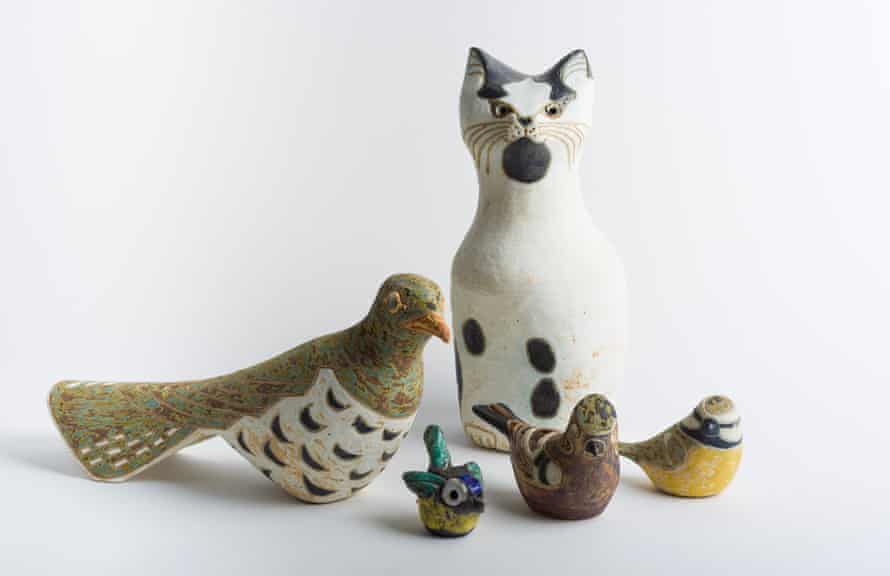 Did you know about Ismay? Currently showing at CoCA is The Yorkshire Tea Party, an exhibition dedicated to his life that could not have been more inspiring if he had tried. Ostensibly, you see, William Alfred Ismay (1910-2001) was an ordinary man, who lived his whole life in a small listed house in Wakefield, West Yorkshire, and worked the same job as a librarian until his retirement. But in another way, it was very cool.
In 1955 he was seized by the desire to make a small batch of Yorkshire-made wares – who knows exactly why, and so began what would turn into a very long buying spree. By the time of his death, he owned nearly 3,600 bowls, all of which were on display in his small house – a collection that included work not only by famous local potters, such as Barbara Cass and Joan Hutchin, but by Ray, Cooper and W. Leach. Written by Michael Cardio, Cestrel Cooper, Jeffrey Whiting (and dozens of others). Sometimes, he would spend a week, or even a month, paying a new bet. Could the son of an ironing machine build such a set now? Could something like this happen? This is something to think about as you go around, although the inevitable answer might make the heart ache a little.
Among the potters and art historians, the house on Welbeck Street, with its outhouse and bathroom that used to live in the kitchen cupboard, finally became a place of pilgrimage – Edmond de Waal was among those who once "approached" to visit Ismay there – and thanks to CoCA, we are now They can honor us too. At the Yorkshire Tea Party there are great pictures and films of bulging houses and home interiors, as well as a reinvention of the crowded mantelpiece, and the kitchen table where he ate his breakfast and used a typewriter, only half of which are available for these purposes because the rest were covered in elegant rows of cups, bowls, and vases.
Shows like this have proven very popular, and the show is now set to run until 2023 (it opened in 2021), which is good news. I can't imagine a person who wouldn't enjoy this show (and if such a human existed, I would never like him). It's a fascinating and unique thing, combining art and social history in ways that stir the soul and make you instantly want to invest in some beautiful teapot or coffee set yourself – and the good news in this result is that you can.