The internationals saved themselves from major disaster on the first day of the Presidents Cup, as they rallied late to stop a US purge in the Quartets.
Team USA was leading in all five games in Cowell Hollow, North Carolina, but a stunning comeback from Australia's Cameron Davis and Si Woo Kim limited the damage to 4-1.
Davis and rookie Kim in the Presidents Cup were third against world number 1 Scotty Scheffler and 12th seed Sam Burns, but took two spots, with the ironclad Australian playing a prominent role.
The international duo came alive of late, winning each of the last four holes to achieve one of the biggest upsets of the tournament.
Watch every round of the President's Cup live with Fox Sports on Kayo from September 20-26. Are you new to Kayo? Start your free trial now>
Davis ranked 66th in the world with one PGA Tour win, while Kim ranked 76th with three career wins – the same amount Burns has earned this season alone.
Meanwhile, it's the first time the world's No. 1 player has lost his inaugural Presidents Cup game since 2005, when Adam Scott and Rivet Goosen beat Tiger Woods and Fred Coples, according to statistician Justin Ray.
Earlier, Scott and Hideki Matsuyama were crushed 6 and 5 by Patrick Cantlay and Xander Shaveli in the opening match, which seemed to set the tone for the day.
Scott and Matsuyama – the strongest international duo on paper – had a terrible start, missing four of their first seven holes.
The pair went on to win only one hole in the entire round as Shaveli and Cantlay set foot on the back of a nine to claim a massive win on the 13th hole.
It looked like it would be a bloodbath for the international players as the hosts raced for the lead in all five matches.
'Not Happening': Golf peace talks 'off the table' as bitter feud takes another dark turn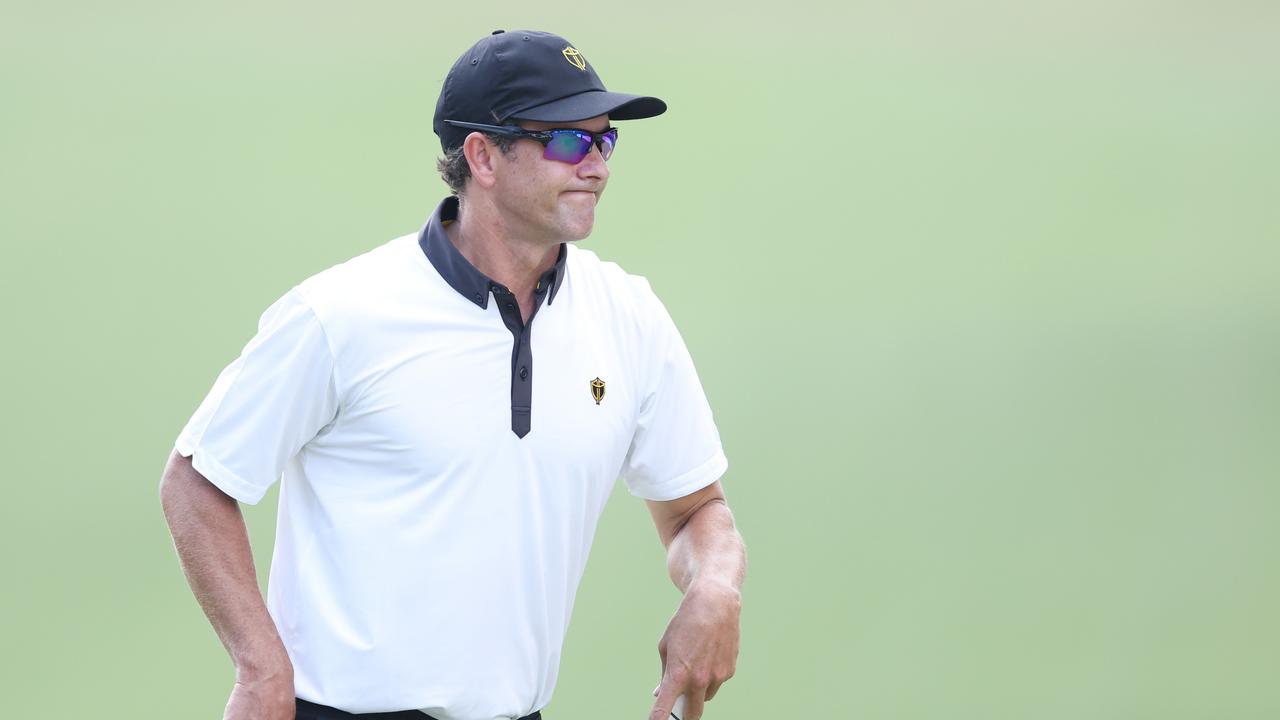 Jordan Spieth and Justin Thomas went on to beat Sonji M and Corey Conners 2 and 1. Spieth is now 6-0 and a four-game winning streak in the Presidents Cup. Then Cameron Young and Colin Morikawa dropped Tom Kim and KH Lee by the same margin to make it a perfect 3-0 start for the United States.
Davis and Kim eventually stopped the bleeding internationals for the team's only point of the day.
Just a centimeter prevented the international from getting another half a point, but Taylor Pendrith and Mito Pereira suffered a heartbreaking 18th hole loss to Tony Finau and Max Homma.
In the closest match of the day, the two teams were tied for five consecutive holes late until Pereira cracked at 18, pulling his lead off the tee, while also leaving a short shot in the vault.
That left Pendrith with a 10-footer to equalise, but he narrowly missed on the high side to give the Americans a 4-1 lead.
It was the 16th consecutive four-legged session in the Presidents Cup that the United States either won or tied.
"We've had some games that we played really hard and some that were really tough," said United States captain Davis Love. "A great start, lots of heart."
International players are already facing a mountain to climb after being decimated by LIV Golf, and will need to make one of the sport's greatest comebacks ever to avoid losing their ninth consecutive Presidents Cup.
The Americans lead the all-time 11-1-1 and have never lost on home soil.
However, international captain Trevor Immelman remains optimistic.
"We got stuck there. We got off to a tough start and were behind the eight ball early."
"We will have to find a way to do a couple of times in the next few days. But we will stay there. That is what we do. We will never give up."
Five points will be shown again on Saturday with four balls from 1.30 a.m. (AEST).
Immelman took the risk to split his only winning duo on day one, with Davis joining Scott in an all-Australian showdown against Spieth and Thomas.
– With AFP
The result of the first day is four times
He defeated Adam Scott / Hideki Matsuyama. By Patrick Cantlay / Xander Sschauffele 6 & 5
Sungjae M/Corey Connors defeated. By Jordan Spieth / Justin Thomas 2 & 1
Tom Kim / KH Lee def. Cameron Young / Colin Morikawa 2 & 1
Se Woo Kim / Cameron Davis defeated. Scotty Sheffler / Sam Burns 2 AB
Taylor Pendrith / Mito Pereira won. By Tony Finau / Max Homa 1 App
Day two pairs of four balls
Cameron Davis / Adam Scott vs Jordan Spieth / Justin Thomas
Songjay M / Sebastian Munoz vs Sam Burns / Scotty Scheffler
Mito Pereira / Christian Bezudenhout vs. Kevin Kessner / Cameron Young
Hideki Matusiyama / Kim Joo Hyung vs Patrick Cantlay / Xander Shaveli
Corey Conners / Taylor Pendrith vs Billy Horschel / Max Homa