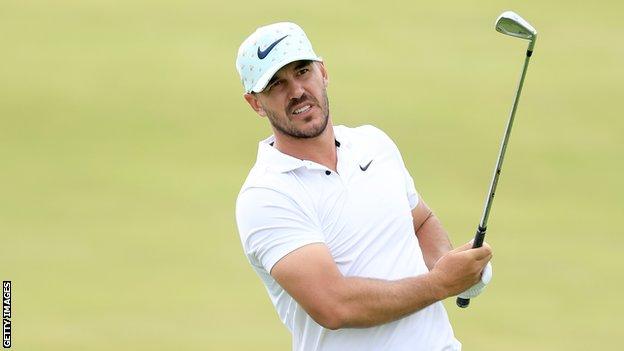 American Brooks Koepka is set to leave the PGA Tour and join the Saudi Arabia-backed LIV Golf Series.
The four-time main champ, 32, is expected to play in the second 54-hole, 48-man tournament that runs from June 30 to July 2 in Portland, Oregon.
The Ryder Cup player will join fellow countrymen Phil Mickelson, Dustin Johnson and Bryson DeChambeau in the new $250m (£200m) series of eight events.
PGA Tour Suspended 17 members who played in the inaugural LIV event.
Mexican world number 20 Abraham Ancer, 31, has signed up to play in the LIV Golf Series, it was announced on Tuesday.
Koepka pulled out of Thursday's PGA Tour event, the Connecticut Travelers Championship.
Speaking at the US Open, where he finished 55th in twelfth place, Koepka complained that questions about the LIV event were throwing a "black cloud" at the major.
The former world number one won the US Open in 2017 and 2018 and is also a two-time US PGA Championship champion, taking home the Wanamaker Cup in 2018 and 2019.
Kupka rose to the top of the game in that period, but has suffered injuries in recent years and is ranked 19th in the world.
His brother Chase had already scored in the LIV Series and played in the inaugural tournament at the Centurion Club on the outskirts of London, which had a £20m prize fund and was won by South African Charles Schwarzl.
Twice main champ Colin Morikawa has used social media to deny rumors that he was also planning to join LIV Golf.
"To be clear, once again, you are all completely wrong," the 25-year-old American posted on Twitter.
"I've said since February in Riviera that I'm here to stay on the PGA Tour and nothing has changed."
Newly crowned US Open champion Matt Fitzpatrick said he also wanted to continue playing on the PGA Tour.
He added, "I know the PGA Tour is not going anywhere, the DP World Tour is not going anywhere, and I feel like that's the important thing for me, that I have a place to play and that's where I want to play." British.
"I think whenever you have Justin Thomas, Rory McIlroy – I saw Colin Morikawa come out and make a statement today – Scotty Scheffler, I feel like you have some great guys out there.
"For me, it's more than good enough to compete with any competing round you might want to try to dominate golf. I'm not worried about that."
The PGA Tour has refused to allow requests to waive play at the first LIV Golf event, which is funded by the Public Investment Fund of Saudi Arabia.
Greg Norman, CEO of LIV Golf, believes that the series, which currently does not hold any global rating points, has a "convincing" case to allow it to award global rating points in the future.