Johnson says he will 'listen' to voters but 'keep going' after historic byelection defeats
PM Media has just snapped this.
Boris Johnson has said he will "listen" to voters but will "keep going" after the Tories suffered a double by-election defeat.
James Forsyth, who as as political editor of the Spectator is one of the journalists best tuned in to thinking in the Conservative party, has written a blog saying the byelection defeats make it more likely than before the the 1922 Committee rules will be changed to prevent Tory MPs having to wait another year until they can hold a second no confidence vote in Boris Johnson. Here's an extract.
Looking at these Tory losses, it is hard not to conclude that the rebels would have got the 180 votes they needed to oust Boris Johnson if they had been organised enough to wait until after the by-elections before going for a vote of no confidence. But having had a vote two weeks ago, it is not credible to suggest changing the rules immediately to allow another one.

However, judging from the conversations I have had with Tory MPs this morning, more of them would now like the option of having another vote sooner than a year from now.
Forsyth says this will be an issue in the elections for the 1922 Committee executive (which has the power to change the rules) before the summer recess.
David Gauke, the former Tory justice secretary, says it is obvious from Oliver Dowden's resignation letter that he wants Boris Johnson to resign. In his contribution to the Guardian's panel verdict on the byelection results, he explains:
Oliver Dowden. Dowden is an astute political operator and was an early supporter of Boris Johnson in 2019 because he thought Johnson offered the best route to a Conservative general election victory. It is obvious from Dowden's resignation letter that he now thinks that Johnson's resignation is the best route to winning the next general election.

When Dowden writes of it no longer being possible to carry on with "business as usual" and that "somebody must take responsibility", it is not really his own position that he has in mind. The question now is whether other Ministers will follow.
You can read all three panel verdicts here.
And here is Dowden's letter in full.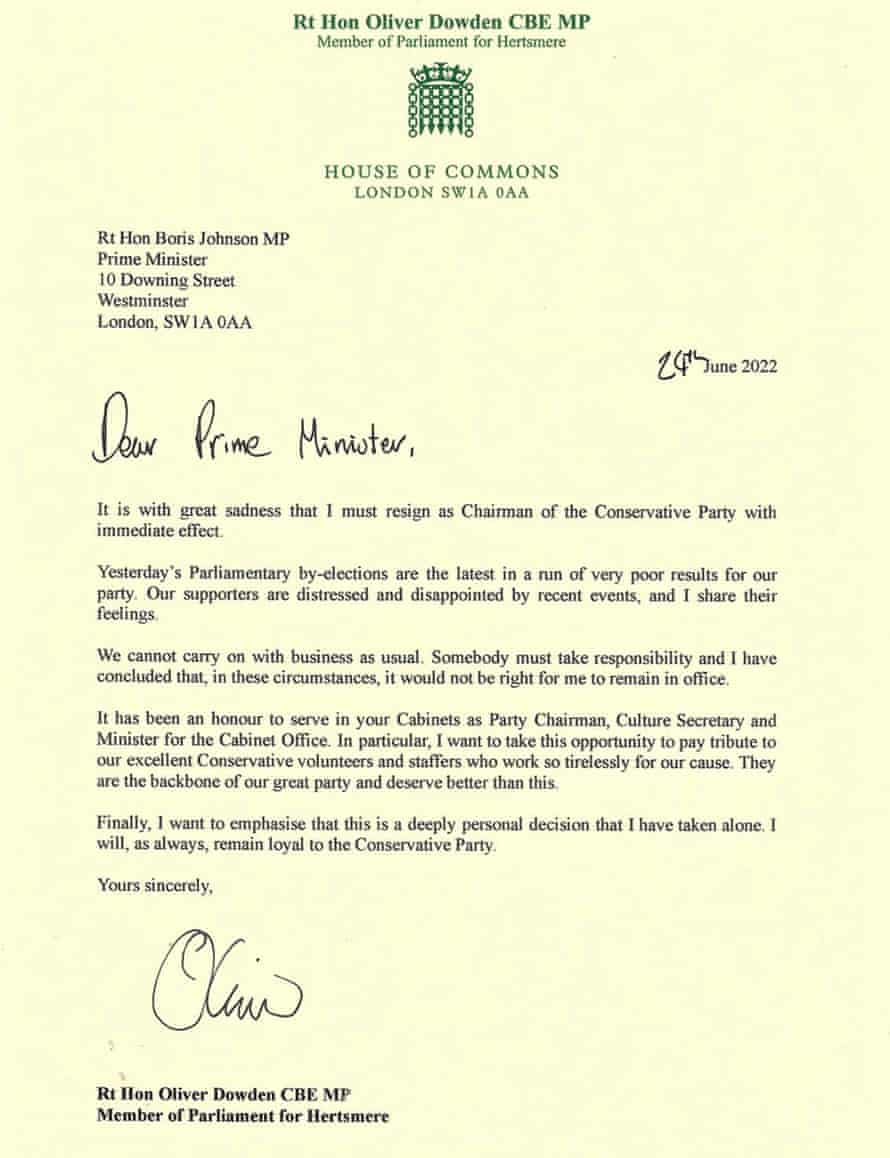 Here is Lewis Baston's analysis of the significance of the byelection results.
And here is an extract.
The previous time a government lost two seats in byelections on the same night was on 7 November 1991 when the Conservatives lost Langbaurgh (Cleveland) to Labour and Kincardine and Deeside (Aberdeenshire) to the Liberal Democrats. Conservatives will point out that five months later in the 1992 general election they regained both seats and won an overall majority in the Commons, but they would be unwise to imagine that their problems in 2022 will be resolved so easily.

The swing to Labour in highly marginal Langbaurgh in 1991 was only a quarter of what it was in Wakefield, and Kincardine had been a long-term Lib Dem target as opposed to a triumph from a standing start like Tiverton. Most of the economic bad news had happened by the time of the 1991 byelections, while in 2022 the cliff edge is in front of us; in 1991 the Conservatives had John Major, a new prime minister who was regarded as competent, unifying and honest, while in 2022 they have Boris Johnson.
Starmer says Wakefield byelection win shows Labour on course to form next government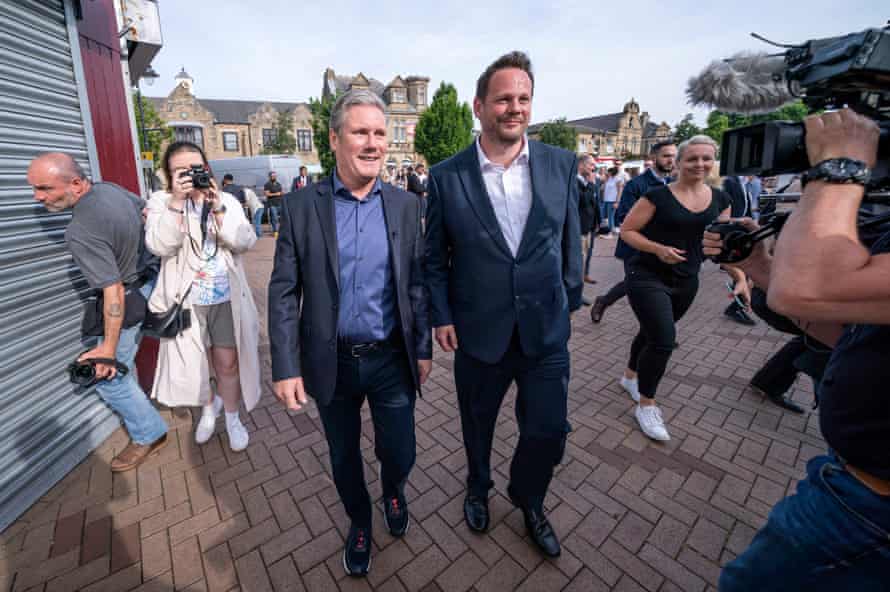 Keir Starmer was in Wakefield this morning to celebrate Labour's byelection victory. He claimed it was a historic result that put his party on course to win the next general election. He said:
This swing is significant, 12.7% swing to Labour. That is huge. That tells you that the next government is going to be a Labour government, and the sooner the better because the country voted yesterday, in both byelections, no confidence in this out-of-touch, out-of-ideas government. So this is a historic byelection as far as we're concerned.

For two years we have been changing the Labour party to make it into that confident party, that party that is facing the voters, that is laser-like focused on the issues that affect them. And that's why people have put their faith in Simon [Lightwood, the candidate], put their faith in our Labour party. I couldn't be prouder of this historic moment on the step towards the next Labour government.
Prof Sir John Curtice's assessment of what the result means for Labour is not quite that positive. (See 9.11am.)
Here are tweets from two Tory MPs already on the record as calling for Boris Johnson to go who have expressed their support for Oliver Dowden, and said he should not take the blame for the byelection defeats.
From Angela Richardson
From Simon Hoare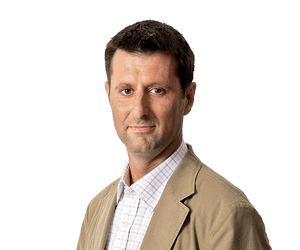 Steven Morris
Neil Parish, whose resignation as a Conservative MP over watching porn in the Commons triggered the Tiverton and Honiton byelection, said the Tories should "face reality" and accept Boris Johnson's unpopularity. Parish told Radio Devon:
What is becoming increasingly necessary for the party and the MPs to discuss what is the long term position of the prime minister. The public are concerned.

You cannot ignore people. It was a very safe seat. I'm afraid at the moment there is too much distraction and we are not getting on with the job.

We are all expendable. That is the issue, is Boris a winner or isn't he? That will be the issue for MPs going forward.

He can make that decision and he alone will make that decision. You cannot ignore people and you ask them their verdict – and it's clear their verdict this morning and it is for the PM to look at it very seriously.
Parish said he was "very fond" of Boris Johnson but added: "The trouble is he does bluster and the time for blustering is over and we must really face reality now."
He said the massive swing against the Tories was a "shock" but he claimed it was "very much a national vote" and added: "I'm afraid the party paid the price for it."
Parish said of his own downfall: "It's a shame I made such a terrible mistake." But he said the presidential style of politics meant the PM was the main focus in the byelection. He said:
It is the leader of your party and their reputation that is up for trial, especially in a byelection.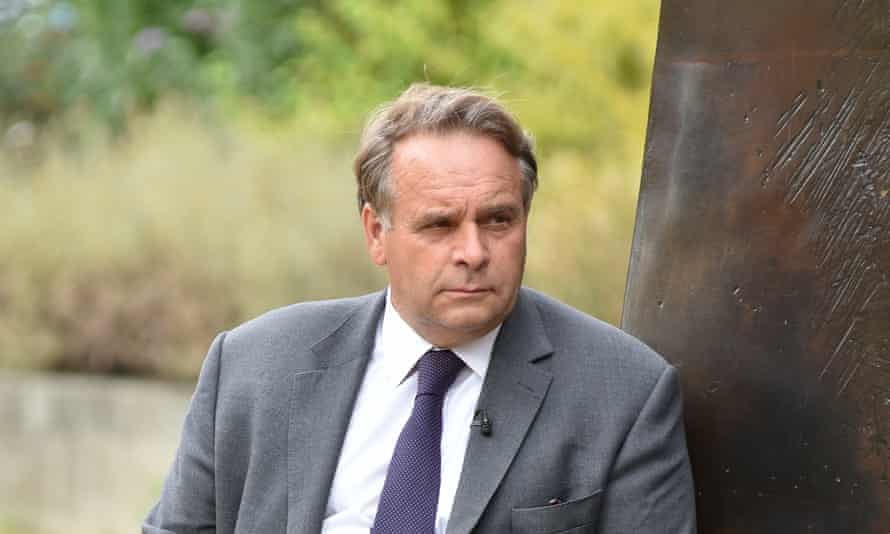 According to Beth Rigby, the Sky News political editor, Boris Johnson was "blindsided" by Oliver Dowden's resignation. He was not expecting it, even though Dowden had warned him earlier this week to expect defeat in Tiverton and Honiton. Johnson was told about Dowden's resignation this morning, as he finished an early morning swim in Kigali. He and Dowden had a brief conversation, Rigby said.
Elections expert John Curtice says Tories now doing as badly in byelections as under John Major
Prof Sir John Curtice, the leading psephologist, gave his assessement of the significance of the byelection results to the Today programme earlier. He had bad news for both main parties.
Curtice said the Tories were doing as badly in byelections now as John Major's government was doing in byelections in the 1992-1997 parliament. Over the last year the Conservative vote had fallen by 20 points on average in the byelections where they were defending seats, he said. The Tories won Old Bexley and Sidcup, but lost the other four (Chesham and Amersham, North Shropshire, Wakefield, and Tiverton and Honiton). He said this had not happened since the Major era.
Curtice said the Tories should also be worried by the extent of tactical voting against the Conservatives. This was crucial in Tiverton and Honiton, he said. The Labour vote there was down 16 points, he said, and the Lib Dems won by 14 percentage points. (See 6.52am.)
But he also said the Wakefield result did not suggest "any great enthusiasm for the Labour party". The decline in the Conservative vote was more than twice as big as the rise in the Labour vote, he said. (See 6.55am.) He went on:
It looks as though quite a lot of voters in Wakefield who were unhappy with the Conservatives took the opportunity to vote for an independent candidate who was a Tory councillor who resigned in March in part over Partygate. He got 7% of the vote and a lot of that probably came from the Conservatives.
Curtice said there were 10 byelections in the 2010-15 parliament where Labour's share of the vote went up by more than the eight percent points it did in Wakefield. (They were: Oldham East and Saddleworth, Barnsely Central, Leicester South, Feltham and Heston, Corby, Manchester Central, Middlesbrough and Wythenshawe and Sale East.) But Ed Miliband still lost the 2015 general election, he said. Curtice went on:
There still seems to be a question about the extent to which voters, many of whom clearly aren't happy with the Conservatives, are necessarily as yet bought into Labour as an alternative.
He said, on the basis of the swing in Tiverton and Hontiton, there were 333 Conservative MPs who would lose their seats to the Liberal Democrats. Acknowledging that life does not work like this, Curtice said "slightly less nonsensely" the swing to Labour in Wakefield was "probably just enough to generate a Labour overall majority [at a general election]".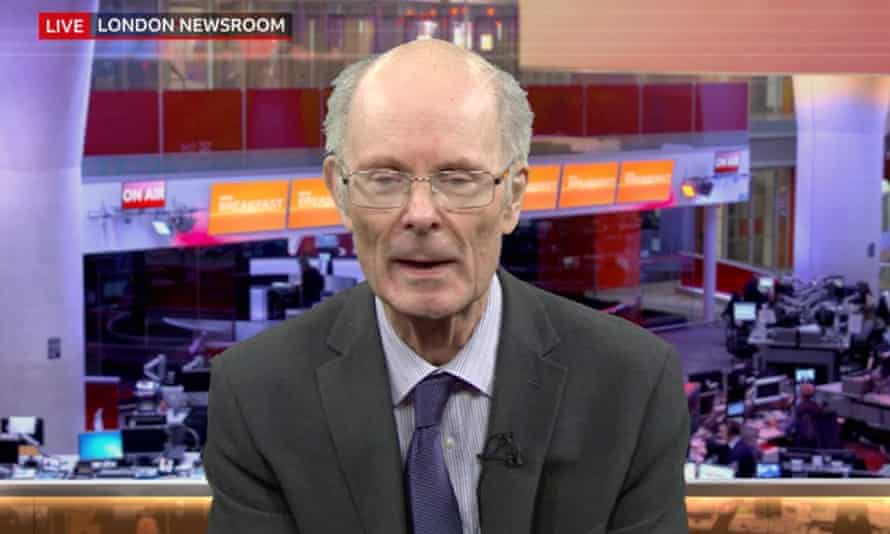 In his Today programme interview Dominic Raab, the justice secretary and deputy first minister, claimed the failure of Conservative supporters to turn out was a key factor in the defeat in Tiverton and Honiton. He said:
My view is that the byelections, both of them, were the result of the perfect storm of very difficult local scenarios, given the situations of the previously sitting Conservative MPs, plus the national headwinds, first of all, inevitably, for a mid-term government, but also, frankly, the distractions that we've had.

I think the prime minister put it well: we need to listen very carefully, we need to take that feedback.

I think [with] Tiverton, the most striking thing is how many of our supporters didn't come out. We need to spend the next two years absolutely relentlessly focused on delivering our plan, without those distractions and with a real calm focus on delivering.
Johnson avoids accepting responsibility for Tory byelection defeats in letter to Dowden
Boris Johnson has not accepted any personal responsibility for the Tory byelection defeats in the open letter he has written responding to Oliver Dowden's resignation. (See 6.44am.) Johnson told Dowden:
Thank you for your letter and I am sad to see you leave government.

As minister for the Cabinet Office, secretary of state for digital, culture, media and sport and co-chairman of the Conservative party, it has been a pleasure to work alongside you for the last three years.

In each of those roles you have given your best and focused on delivering for the British people.

Whilst I completely understand your disappointment with the by-election results, this government was elected with a historic mandate just over two years ago to unite and level up. I look forward to continuing to work together on that.
In his letter Johnson seems to be wilfully misinterpreting the message in Dowden's letter. When Dowden said that supporters were "distressed and disappointed by recent events", he was not referring only to election defeats. He also seemed to be referring to Partygate, and to Johnson's own conduct. (Dowden's language is very similar to the language used by many other Tory MPs when they sent emails to constituents who asked for their response to the Sue Gray report revelations.)
Johnson does not acknowledge this. Instead it sounds more as if he is saying that the person Dowden should be disappointed in is Dowden himself.
Here is Johnson's letter.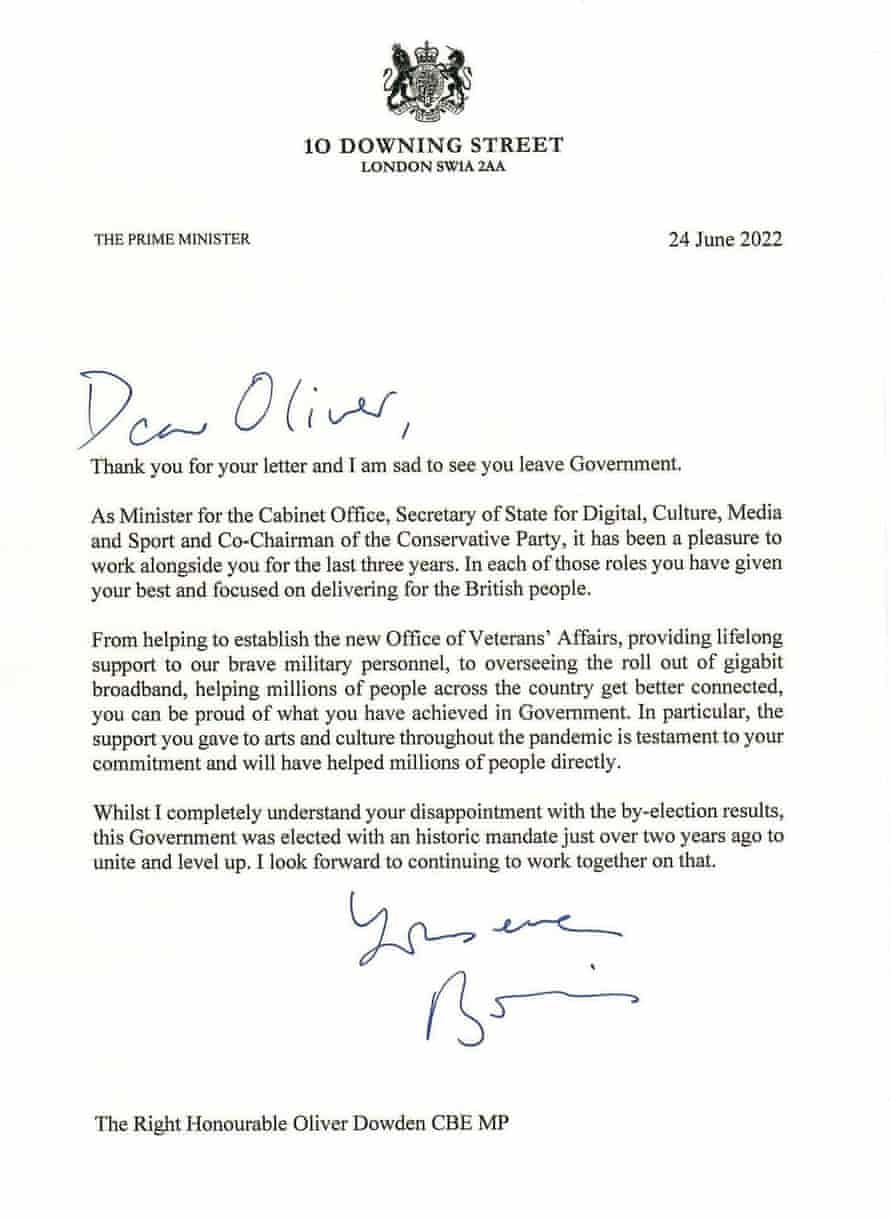 Asked if Boris Johnson had asked Simon Case, the cabinet secretary, to make inquiries about a possible job for his wife, Raab said he had no knowledge of that.
When it was put to him that Boris Johnson would remain a distraction for the government, Raab said he did not accept that. He claimed Johnson was someone who had got the big calls right.
Raab says Tories will respond to byelection defeats by focusing 'relentlessly' on delivery
Dominic Raab, the justice secretary and deputy prime minister, is on the Today programme. He is standing in for Oliver Dowden, who had been scheduled to speak for the government, but who resign instead.
Asked what would change as a result of the byelection defeats, Raab sidestepped the question and instead insisted the government had a "positive agenda".
The opposition parties did not have an agenda, he claimed. He said their only strategy was to run an electoral pact.
At the general election the choice facing voters would be different, he said.
Nick Robinson, the presenter, said that in Dowden's resignation letter he said the party could not carry on "with business as usual". He asked Raab again what was going to change. In response, Raab stressed the government's determination to tackle the problems facing the country. He went on:
We will be relentlessly focused on deliver … The change is not allowing anything to get in the way of that.
Sir Roger Gale, who was one of the first Conservative MPs to call for Boris Johnson's resignation over Partygate earlier this year, told BBC Breadkfast this morning that the PM had "trashed" the party's reputation.
Asked if he expected other cabinet ministers to follow Oliver Dowden's lead and resign, Gale replied:
It is possible that that may happen but it is up to my colleagues in the cabinet to decide whether they can go on supporting a prime minister who, frankly, has trashed the reputation of the Conservative party, my party, for honesty, for decency, for integrity and for compassion.
Asked who should replace Johnson, Gale said the party was "spoilt for choice". He said:
There are several people who would make very good prime ministers within the party and one of those will emerge between now and the next general election and lead us into the next general election, which I trust we shall win.
Johnson says he wants to 'reflect on where voters are', as he insists governments normally lose mid-term byelections
BBC News has now broadcast a fuller clip from Boris Johnson responding to the byelection defeats from Rwanda this morning. He said that he did not want to minimise the importance of what happened – but then went on to it was normal for governments to lose byelections in mid term. He said:
I think that what governments also have to recognise is that I don't want to minimise the importance of what voters are saying, but it is also true that in mid-term, government, post-war, lose by-elections.

I think if you look back to last May the truly astonishing thing was we managed to win Hartlepool in very different circumstances.

What we need to do now is reflect on where voters are, and what they are basically feeling is that we came through Covid well and we took a lot of the right decisions there. But we are facing pressures on the costs of living.

We are seeing spikes in fuel prices, energy costs, food costs, that is hitting people. We have to recognise that there is more that we have got to do and we certainly will, we will keep going addressing the concerns of people until we get through this patch.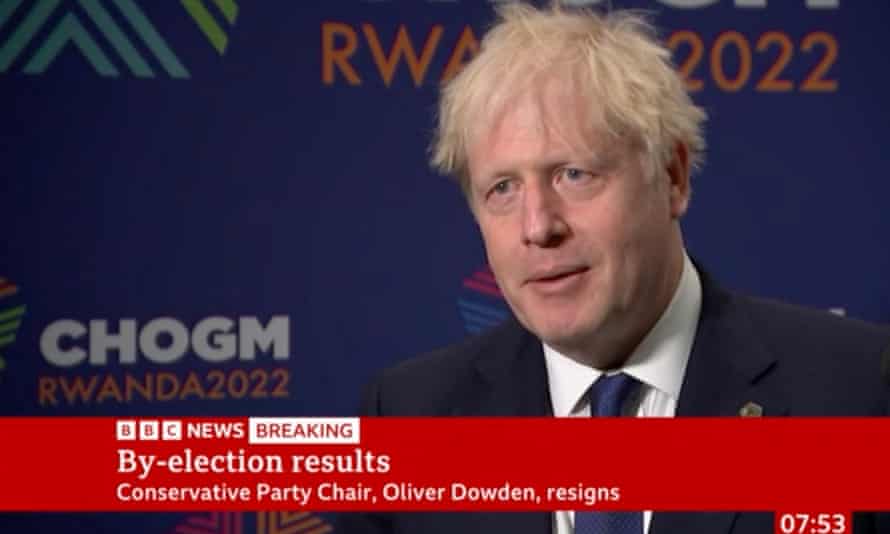 Louise Haigh, the shadow transport secretary, told BBC Breakfast that the Wakefield election result was beyond her wildest dreams. She said:
We were obviously hoping for victory last night in Wakefield, but the result went beyond our wildest dreams.

It was a higher turnout than we expected, a much bigger swing, and a much bigger vote share as well, which went far beyond any that we've achieved for several general elections in a row now.

I think there was a kind of narrative about Wakefield that it was a safe Labour seat that just happened to go blue in 2019, but, actually, it's been quite a marginal seat for several general elections in a row.

This is one of the biggest majorities that Labour has returned for almost 20 years. So, we are thoroughly delighted with the trust that the people of Wakefield have placed in Simon Lightwood and Keir Starmer's Labour Party.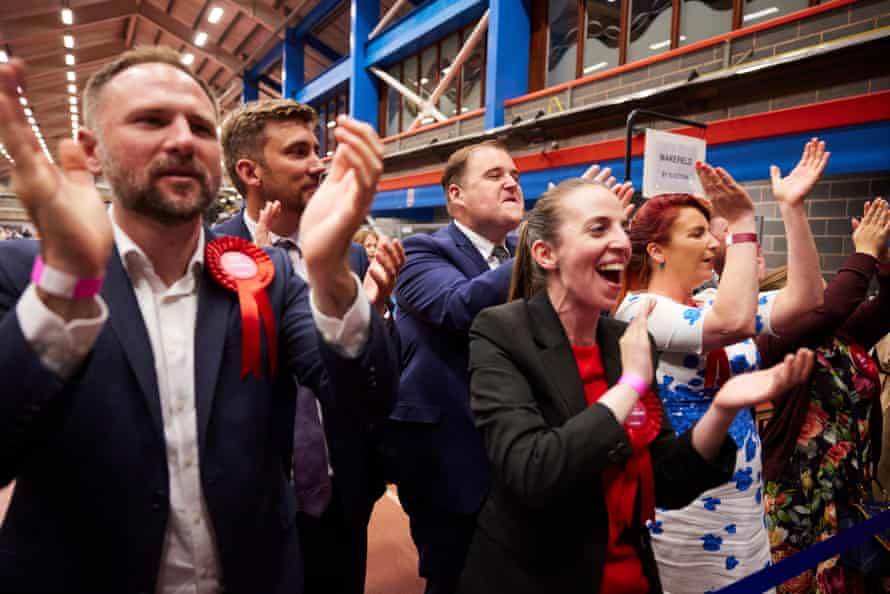 Oliver Dowden had been due to do the morning broadcast interview round on behalf of the government. But he not not turn up for a scheduled interview with Sky News and, on the Today programme a few minutes ago, the presenter Mishal Husain suggested she did not expect him to turn up there either.
This suggests that, although Dowden's resignation letter contained implied criticism of Boris Johnson, he has not gone fully rogue. No 10 may not want him on the airwaves now, but he would be perfectly free to give interviews if he wanted to. He may be holding back because he does not want to say any more than what he said in his letter.
Ed Davey, the Lib Dem leader, told LBC that the lesson from the Tiverton and Honiton byelection was that Boris Johnson should go. He said:
We've just had the biggest by-election victory here in Devon. No majority of this size has ever been overturned in a by-election, so I'm pretty chipper today.

We are smiling here and the message from Tiverton and Honiton, the people here in Devon, is that Boris Johnson must go. I think they've spoken for the whole of the British people and it really is time he left …

I think [the result] speaks on behalf of people – Boris Johnson really must be pushed out.
Johnson suggests cost of living crisis to blame for Tory election defeats
This is what Boris Johnson told broadcasters in Kigali this morning about the byelection defeats. He is in Rwanda for the Commonwealth summit.
Johnson implied that the cost of living crisis was to blame for what happened, not his own conduct or leadership. He said:
It's absolutely true we've had some tough by-election results. They've been, I think, a reflection of a lot of things, but we've got to recognise voters are going through a tough time at the moment.

I think, as a government, I've got to listen to what people are saying, in particular to the difficulties people are facing over the cost of living, which, I think, for most people is the number one issue.

We're now facing pressures on the cost of living, we're seeing spikes in fuel prices, energy costs, food costs – that's hitting people.

We've got to recognise there is more we've got to do and we certainly will, we will keep going, addressing the concerns of people until we get through this patch.
Johnson also thanked Oliver Dowden for his work as Conservative co-chair.