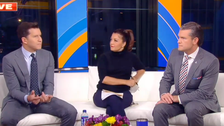 "Fox & Friends Weekend" hosts asked why artist Kanye West had to be "shut down" before they knew about his anti-Semitic tweet on Sunday – leading to some furious backlash later.
West, who suggested fellow rapper Sean "Diddy" Combs was controlled by Jews in an Instagram post Friday, he was locked out of his Twitter account hours before the Fox show for another anti-Semitic post that claimed he would be "going dead con 3" about Jews.
Cain, who admitted at 7 on Sunday that he had not "seen" West's post, argued that media organizations do not provide "supporting evidence" in their reporting of racist or anti-Semitic posts.
Hegseth admitted he didn't know what West said on Instagram either.
However, Campos-Duffy described West's Instagram post before describing a "weird era where people can't just say what they want to say."
"This idea that you should just shut down his account is just, it's totally totalitarian, totally anti-American, it's just wrong," Campos-Duffy said.
The trio returned about two hours later on Sunday to report on West's anti-Semitic tweet and had a noticeably different take on his "shocking" remarks.
"Unfortunate," said Hegseth.
"Pretty ugly," Cain added.
"We talked about it earlier without knowing about those tweets and said of course they're going to set a goal after what he said with Tucker, there's going to be a goal without a doubt," Hegseth said.
"But in this particular case, he brought the goal."
You can see the trio's earlier reporting on West and their later reporting – as documented by Mediate – here.