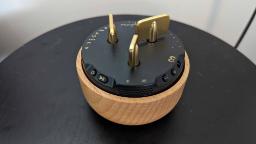 We love selling Anthropologie, but especially when it focuses on one of the brand's most coveted elements – TLDR; It's time to shop. Right now, you can save 30% on a retailer's line of vintage-inspired, sparkling primrose mirrors. The look glasses are big enough to make a statement, whether you hang them above your dresser or lean them against the wall to make your space look a little bigger.
Use the 3-foot by 7-foot models (now $383.60 and $1118.60, respectively) to add a little dimension to your space, provide a focal point, or give your space some noble Parisian vibes. Other options include 5-foot by 6-foot floor models, so there's a real thing for every space (even a table top, now $117.60 and worth a little more charm).
Each comes in shades of gold, antique black, silver, or antique vermilion, so you can choose any finish that suits the mood of your space. Shop them all this weekend, before the sale ends on Anthropologie.com.