ONEmy Sherald only needs 10 minutes. For the artist, a small period of alone time every morning is the goal, but that is easier said than done. "I try to wake up before everyone else and have 10 minutes of quiet," says Sherald, who lives with her partner, Kevin Pemberton, and her mother. "Once [my mom] hears me, she says: 'Hello! It's Amy and mommy time,' says Sherald with a laugh.
Quiet time will come soon enough. But right now the 49-year-old artist is busy packing for a month-long trip ahead of his first solo exhibition in Europe, The World We Make. The show is "a natural next step," she says, using her signature use of grisaille ("[I just say] I paint in black and white," she jokes when I ask how to pronounce the French term). She uses the greyish tone instead of black skin tones as a means to challenge the marginalization of her work and to create language around her identity – in her words "bringing a kind of poetry to black figuration".
The unwavering eye contact between painted subject and viewer has been maintained in Sherald's new exhibition, along with the colorful, curated wardrobe for her subjects. But beyond the ordinary people who feature in her work, The World We Make as well alluding to historical images and reinserting black people into iconic moments in the Western canon where our influence is understated. Her reinterpretation of Alfred Eisenstaedt's VJ Day in Times Square image shows a black gay couple, just one example of the artist's reconstruction.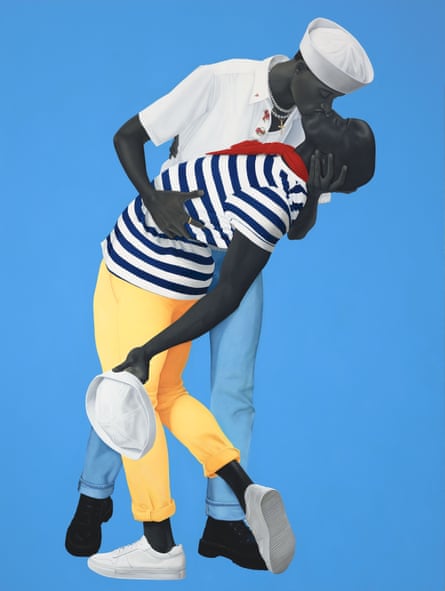 Although the paintings are complete, a "fried" Sherald acknowledges that there are still final travel arrangements and preparations for the show to be made. When we meet in her chic New Jersey home, Sherald, sporting jeans and a gray crewneck, is relaxed and happy (her default mood, she says) as we sit on soft white stools around her dining room table.
"I pretty much always make the best of everything," she says. "Because there is the opposite of that [and] it's unproductive." The Columbus, Georgia-born artist has had an explosive past four years, ever since she received widespread acclaim for her 2018 portrait of former first lady Michelle Obama. "She's an icon," Sherald says." She represents to me and many women what femininity in the 21st century looks like."
Since winning the Smithsonian National Portrait Gallery's Outwin Boochever portrait competition in 2016 and painting Obama, Sherald's public profile has risen. There was a cameo appearance in the television reboot of Spike Lee's She's Gotta Have It, and Sherald was dressed along with eight other cultural creators by the fashion brand Thom Browne, described by GQ magazine as the "coolest clique in fashion".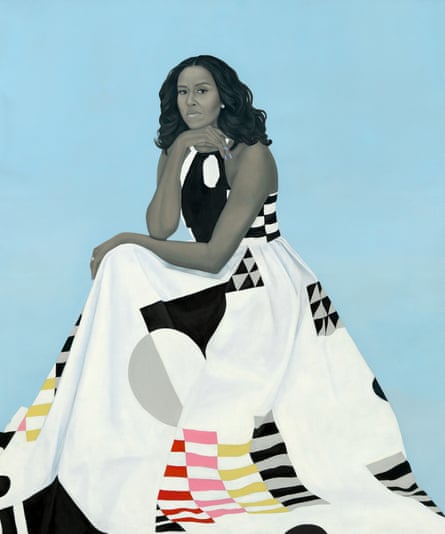 While some mistakenly labeled her numerous accolades as shotgun successes, a mild frustration that Sherald experienced after Obama portrait unveiled, she has built her successes on a solid foundation: a decades-long art career with multiple exhibitions, apprenticeships and a Master of Fine Arts in painting. "I think it's very important that people understand that this doesn't happen overnight," Sherald says.
Her biggest adjustment has been managing her growing celebrity status. "I've learned to have a public persona," Sherald says. "It's not that it's fake. But I had to learn to be public." She believes in generosity and access, themes woven into every aspect of her life and work. So if an autograph needed to be signed, she signed it. An admirer wanted a hug? An embrace was given. But it took its toll, especially given that she's "not really an outgoing person per se". Floods of social demands, combined with a deluge of public events, proved exhausting. "I would get a migraine for two days because that kind of extroversion to an introvert is like physical exhaustion," Sherald says.
Now, nearly three years after the aforementioned revelation, Sherald has a greater understanding of boundaries and recharging: "You have to learn what your boundaries are and then learn to say no." Certain presences in her life help the artist recharge. Three members of Sherald's support team greeted me when I first walked in the door: her dogs George, Weezie, and August Wilson. "They should get paid like therapists," Sherald jokes as the trio play-fight near her feet.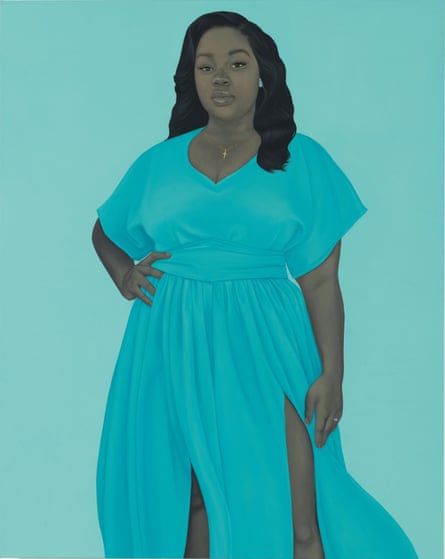 Despite all the changes in her life, Sherald still makes herself available to younger artists who need a mentor who can shed light on the inner workings of the art world and market. Her easy manner may be partly due to her upbringing in the southern United States. Or maybe it's her eager embrace of living outside of New York City, a puncture of superficial demands to be a "real" artist. Or it could be that Sherald is just a "giver," a role she says comes naturally but also one she's been thrust into during various family and personal emergencies.
Sherald's father died of Parkinson's disease when she was 28. Her brother died of lung cancer at 36. She has navigated her own serious health issues and received a heart transplant at 39. "I truly understand that life is short and that waking up today [is] the best thing that could ever happen," she says.
No aspect of Sherald, her personality or her artwork, is concerned with ornamentation and superficiality. She's direct and honest, drawing limits on what she's willing to share publicly, but never hiding. Like her work, she is an embrace of the inner life of black, of honesty beyond observation. It is a negotiation of the public versus the private, and what deserves a place in the narratives we present to the world.
Black people are often exposed to white education, curiosity and improvement. The summer of 2020, when racial justice protests dusted across America, proved no different. The pain and trauma of black people was widely shared so that white people could observe their own capacity for violence. But Sherald's work remains an invitation to go beyond the simple observation of Blackness tied to a legacy of violence and oppression, as with her acclaimed posthumous portrait of Breonna Taylorwho appeared on cover of Vanity Fair in September 2020."[I] like she's with me every day," Sherald says of Taylor.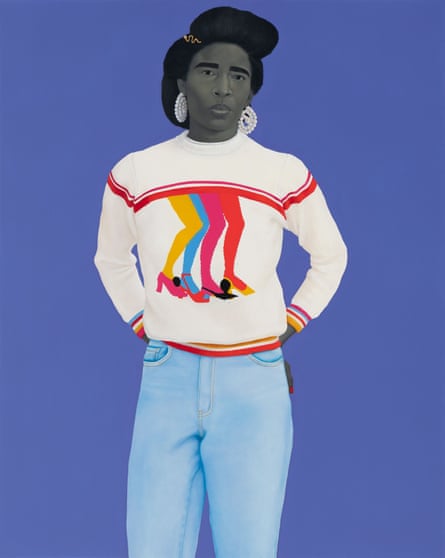 On March 13, 2020, emergency room technician Taylor, 26, was shot and killed by Louisville police officers who forced their way into her apartment while she slept. Creating a portrait of Taylor that exists outside of the brutal and cruel way her life ended was a heavy responsibility. "I wish this mother could have her daughter back because it didn't have to happen," Sherald says of Taylor's mother, Tamika Palmer.
But Sherald delivered something uplifting, placing Taylor in a turquoise dress instead of her EMT uniform, her left hand gently placed on her hip while an engagement ring she never received from her boyfriend sits on her right. Taylor's portrait, like much of Sherald's work, was critically acclaimed, described by Forbes as the "most important painting of the 21st century".
Sherald is immunocompromised and was unable to participate in the 2020 racial justice protests, so the portrait of Taylor was her "opportunity to really have a personal response and connection to that moment, and offer something that could codify that moment, historically and in context". (Sherald has also donated $1 million to establish two grant programs in Taylor's name.)
Especially after the Obama portrait, Sherald still sometimes encounters questions about her use of gray to depict black skin. She invites the questions as part of the dialogue and the question that art must produce. But Sherald draws a hard line at the intrusion of whiteness into her work, especially questions of whether and when she will paint white people. "It's a lack of awareness, even looking at my work and then thinking about yourself," she says. "It's the whitest thing you can do. All of it I do is to say that black lives matter. For me, black lives historically in the American art canon, [and] Black lives matter in our history."
Still, Sherald doesn't fully identify her work as being "revolutionary," and admits she recoils at the term ("It's just me and my own self-conscious weirdness"). The dismissal is not due to a lack of confidence, but rather a term she believes should be associated with politicians and activists such as Stacey Abrams and Angela Davis. Even an outright assertion of the influence her art has had or her position as one of the most significant contemporary artists feels negative to her. "If it's written when I'm dead, but it's the way my life patterns itself, that's fine… But I think I've always just seen myself as myself and my contribution as the work. And it sits in the world and does its thing.
For now, issues of heritage and remembrance are important, but the work remains a priority. It is what has kept her poised and ready for the abundance that has come her way. "I stayed focused on making the work. And the opportunity found me."
Amy Sherald: The World We Make is at Hauser & Wirth, London, from 12 October until 23 December.